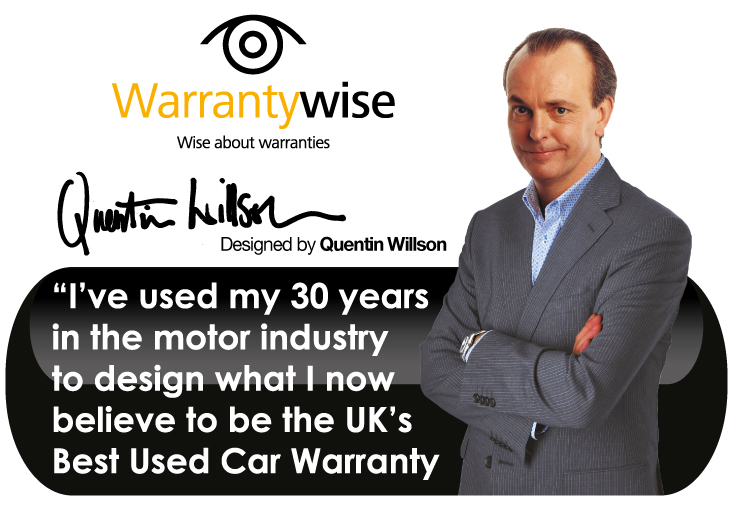 It would be fair to say that some used car warranties aren't worth the paper they are written on, that's why we have partnered Warrantywise, offering peace of mind to each and every one of our customers. Founded over 10 years ago, Warrantywise is the UK's leading service and maintenance plan specialist. They provide comprehensive extended vehicle warranties for all makes and models of vehicle.
Warrantywise was founded on the principles of 'honesty' and 'integrity' and Quentin Willson has been instrumental in delivering these principles alongside Warrantywise since joining the team in 2008. We can provide warranties for your vehicle anywhere from 6 months right up to 36 months, and many of our vehicles come with warranties as standard. Please ask for further details.
All Warrantywise plans include: No limit to the number of repairs. There's no limit to the number of repairs you can have, up to the retail value of your car. No mileage restrictions. Unlike many warranty companies Warranty Wise have no annual mileage restrictions, so once your plan gets underway, you won't drive out of cover! No contribution from you towards repair costs. There is no contribution from you in the event of a repair. £500 Car Hire, £250 Recovery, £250 Overnight Hotel, Travel Expenses and Unlimited Protection in Europe. Warranty Wise cover the 'real cost' of your out of pocket expenses.
We will be happy to discuss your warranty options with you to get the exact cover you require. Please don't hesitate to get in touch with any questions you may have about the warranty for your new vehicle.